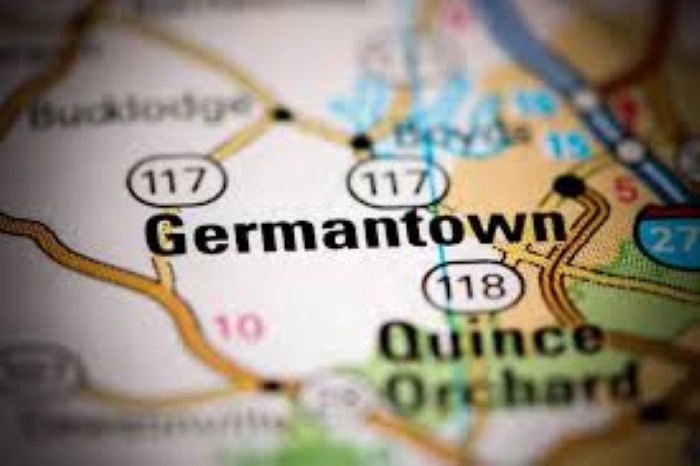 Germantown is an urbanized census-designated place in upper Montgomery County, Maryland. While technically not a city, Germantown is the most populous place in Montgomery County and the third most populous place in Maryland, with a population of 89,529 as of 2020 estimates (91,249 per U.S. Census Bureau 4/1/2020). Germantown is located approximately 28 miles (45 km) outside the U.S. capital of Washington, D.C., and is an integral part of the Washington metropolitan area. Germantown has the assigned ZIP codes 20874 and 20876 for delivery and 20875 for post office boxes. (NOTE: It is the only "Germantown, Maryland" recognized by the United States Postal Service, though three other Maryland counties have unincorporated communities with the same name.)

In February 2023, 'Wallethub.com' released its 2023's Most & Least Ethnically Diverse Cities in the U.S. Four Montgomery County, Maryland communities/cities were ranked in the top 10 of the most ethnically diverse cities. Germantown ranked #1 in the U.S. compared to more than 500 U.S. cities. Gaithersburg ranked #3, Silver Spring ranked #4, and Rockville ranked #8. (NOTE: The personal finance website compared more than 500 of the largest U.S. cities across three key metrics: Ethnoracial diversity, linguistic diversity, and birthplace diversity.)
​Germantown offers many amenities within walking distance from Waterford Place: BlackRock Center for the Arts, which hosts local and touring performances, offers classes in visual and performance arts, and houses an art gallery; We Art Fun painting studio offering classes, paint at home, and paint in the studio activities; a Regal Germantown Stadium 14 movie theater; the Germantown Public Library in Town Center; and the Topgolf Germantown---a sports entertainment complex that features an inclusive, high-tech golf game that everyone can enjoy.

Dining options are plentiful. There are a variety of restaurants offering quick-serve, curbside pick-up service, full service, and delivery. Grocery choices include Giant, Safeway, Wegmans, Aldi, Lancaster County Dutch Market, Walmart, Target, and Giant Delivers (formerly Peapod).

For retail shopping, the options include the Shops at Town Center, Milestone Center, and the Clarksburg Premium Outlets.
For the outdoor enthusiast, Waterford Place is located close to many parks. Some include Black Hill Regional Park, South Germantown Recreational Park Trails and Bike Park, Germantown Town Center Urban Park, Maryland SoccerPlex and Discovery Sports Center, Ridge Road Recreational Park, Seneca Creek State Park, Great Seneca Stream Valley Park, and other trails.

For transportation/commuter needs, there are three exits to I-270 (less than one mile away). Other commuter options include: the Maryland Area Regional Commuter (MARC) train and the Germantown Transit Center are within walking distance. In addition, the Ride On bus runs express service to the Shady Grove station of the Washington Metro's Red Line. 
Additional information about Germantown is available on this site under "WP Community" and the external site, WikiPedia.org.
Have questions about living in the Waterford Place community? Contact us!